Details:
Category:
Concerns
| Published: 16 August 2014 | Hits: 3358

April 2, 2008

Here's a fact that may surprise you: kidney failure is the one disease that you can get coverage for – from the Federal Government - no matter what.

For this reason, after 30 months of treatment by a private insurer, dialysis facilities bill Medicare regardless of whether the patient is over 65 or financially stable. For those with kidney failure (End Stage Renal Disease) due to diabetes or other causes, having a machine take over the complicated (and therefore expensive) task of cleaning their blood several times a week allows them to live.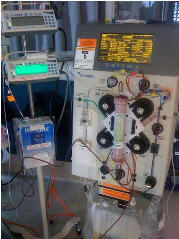 MSP extension: For several years, various groups have been pushing for an extension of the Medicare Secondary Payment time frame from 30 months to 42 months, claiming in part it is a denial of patients rights to force them onto Medicare if they want to retain private insurance. Kidney Care Partners (KCP) - a coalition of drug manufacturers, dialysis providers, health care professionals and patient advocates formed in 2003 - are pushing for the Medicare Secondary Payment extension as well as other "quality of care improvements for renal disease." (The House of Representatives approved the MSP extension in August 2007 when it voted to pass the Children's Health and Medicare Protection Act, which Bush later vetoed. See our piece on S-CHIP.)

Sounds good, yes?

Not so fast.

The problem is that dialysis falls into the only Medicare prospective payment system (in which a health care provider is reimbursed a flat rate based on number of patients) that doesn't get updated automatically each year to compensate for inflation. Non-hospital dialysis facilities complain that due to the increasing costs of having to staff nurses and expensive equipment to perform dialysis, a lengthy procedure, they are not being adequately reimbursed for their services by Medicare.

A quick scan of the KCP member list, however, makes things start to, well, smell a little fishy. A roll call includes DaVita and Fresenius Medical Care, the nation's two biggest dialysis providers in the country.

What do they stand to gain from an MSP extension?

An additional year of private insurance dialysis reimbursements at higher rates. KCP submits that between 5,000 and 10,000 of the nearly 400,000 Americans with ESRD would remain privately insured from month 31 to month 42 if MSP were extended.

Anemia drug scam: Meanwhile, Congress has proposed a different payment adjustment for dialysis treatment to deal with a different systemic problem. Apparently, a Medical Technology and Practice Patterns Institute study published in the Journal of the American Medical Association in April 2007 found that for-profit dialysis centers were pushing unnecessary anemia drugs on their patients. Anemia is a common symptom of renal disease and medical guidelines recommend anemia medication for those with red blood cell levels between 33% and 36%.

* The study determined that about 1 in 4 of patients who received treatment at for-profit dialysis centers had blood levels of 39% or higher.
* Unlike not-for-profit dialysis centers, which reduced doses of the anemia drug Epogen after they reached recommended hematocrit levels, for-profit centers continued to increase doses, sometimes to three times that of non-profit centers.

Why is this important? High doses of Epogen and similar drugs can lead to increased risk for death, strokes and heart attacks in kidney dialysis patients, which is why the FDAfollowing the study issued a black box warning to advise doctors that they should use only the lowest dose necessary.

Epogen becomes a profit center:

* Medicare paid $2 billion in reimbursements for Epogen in 2005, more than it spends on any other treatment.
* Reimbursements for Epogen account for 20% to 25% of the annual revenue of for-profit dialysis centers.
* The largest of these centers, like DaVita and Fresenius, can negotiate volume discounts with Amgen that allow them to purchase Epogen at a price lower than the amount Medicare reimburses them for the medication, thus "using patients as a profit center based on bad science".

Is this just the cost of doing health care business?

The Government Accountability Office, the Medicare Payment Advisory Commission and House Ways and Means Health Subcommittee Chair Pete Stark (CA-D) all support switching to a bundled rate for dialysis reimbursement, which they hope will remove the incentive for separate medication billing and lead to more efficient care. The Bush administration's fiscal year 2009 budget proposal calls for the new payment system to begin on January 1, 2011.

Does KCP - the self-proclaimed advocate dedicated to improving quality of care for individuals with kidney disease - support this bundling plan? Not as of yet. Oh yeah – another member of the KCP team? Epogen manufacturer Amgen.

For more on DaVita see U.S. Securities and Exchange Commission Report, 2004

For more on Medicare dialysis reimbursement and bundled payments see Medicare Payment Policy Report to Congress - Dialysis Centers, March 2007
Email This Post Email This Post Print This Post Print This Post

Posted by Emily | Filed Under Blog, Chronic disease, Congress, Costs, Coverage, Drug companies, Government, Insurance, Medicare, Nurses, Profits