Details

Written by:

Super User
(see John Oliver and friends' take on kidney dialysis after the following)
!!!!!!!Out Now!!!!!!!
How to Make a Killing: Blood, Death and Dollars in American Medicine
(from the author's website)
How did a lifesaving medical breakthrough become a for-profit enterprise that threatens the people it's meant to save?
Six decades ago, researchers achieved the impossible: a treatment that made kidney failure a manageable condition instead of a death sentence. And yet, in the hands of a predatory medical industry, this triumph led to skyrocketing costs and worsening care.
A gripping microcosm of American health care gone wrong, How to Make a Killing recounts how the optimism of the 1950s and 1960s—when transplants and early dialysis machines offered hope—gave way to anguished debates about the ethics of rationing (and profiting from) life-saving care. After Congress made renal disease the only "Medicare for All" condition, Big Dialysis proliferated, and the Hippocratic oath gave way to the profit motive.
A triumph of investigative research, Tom Mueller's book features an unforgettable cast of characters: CEOs who dress as Musketeers to exhort more aggressive profit-seeking, nephrologist insiders who reveal the substandard care this causes, and heroic patients who risk their lives to reveal the truth.
Tom Mueller's books and articles
--------------------------------------------------------------------------------
(updated 2023)

(Click the image for information on finding a living donor, home dialysis, and other info)
The following video and articles highlight what happens when a CEO can't tell the difference between a Taco Bell and a dialysis clinic (that observation was made by the comedian John Oliver):

--------------------------------------------------------------------------------
Profit and Loss: America on Dialysis
This December 2020 Scientific American series of articles points out many of the multitude of problems affecting kidney dialysis:  
*When large corporations come in hospitalizations will go up and treatment quality will go down.
*The dialysis companies have figured out how to game the system and increase their already outrageous profits by getting dialysis patients off Medicare and into private insurance where private insurance can be gouged!  This results in higher insurance premiums for the rest of us.
*Also pointed out are the downsides of having nephrologists have a financial stake in dialysis clinics.  There is also some discussion of the other side of the argument.
*Another article points out the racial disparities in dialysis.  However one doctor does provide a bright spot.
*An uplifting article discusses how the pool of available kidneys has been increased with the use of things like hepatitis C infected kidneys.
*An article discusses how dialysis patients have a hard time accessing palliative and hospice care.
--------------------------------------------------------------------------------
Dialysis: Last Week Tonight with John Oliver
The link provided below brings up a quick 24 minute video which provides an excellent introduction to the goings-on and history of kidney dialysis through the anesthesia of humor.  Kent Thiry and Davita play a prominent role in this clip about an area of healthcare that has been on the forefront of bad medicine.  It led one commentator to state: "We are paying the most to get the least." That seems to be American healthcare in a nutshell.":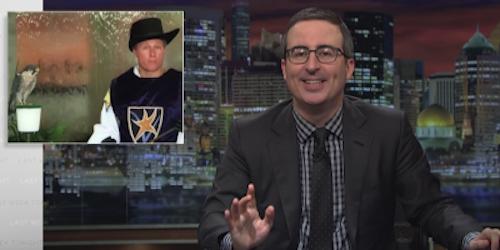 Credit: John Oliver on Youtube
John Oliver and dialysis on Youtube
--------------------------------------------------------------------------------
**********************************************************
Bonus - Click for Diabetes Care
(a bit more encouraging - sort of)
**********************************************************
--------------------------------------------------------------------------------
The Strangest Show on Earth!
Former CEO Kent Thiry liked to call Davita a "Village" where he was the mayor.  But was it as Dr. Peter Laird of Lancaster CA called it: "the Village of the Damned"?  This hard-hitting article by Luc Hatlestad might help you decide:

                                                                                                                        credit: Eddie Guy and 5280 magazine

Read more: Large Dialysis Organizations Run-Ins with The Law and the Media
Details

Written by:

Super User
(Post-update: 'Save the Billionaires (or not)' Walk in Omaha Nebraska May 6th, 2023!)
For years this site has been a tinderbox with all the various problems highlighted in kidney dialysis and I was content to keep the site up and go my way.  Then along came the announcement of a book.  It put a log on that tinderbox, but no flames yet.  Then along came this article - ignition.
It brought me back to a day in 2012 when we were in the Colorado Senate Health and Human Services committee for the renewal of a Colorado state bill.  I was answering questions after my testimony.   At about 11:15 of this video, State Senator (R) Kevin Lundberg basically stated that it was ironic we didn't need tech certification when it was mostly nurses giving dialysis treatments back in the old days.  I think I gave him a good answer, but I really wanted to tell him what I thought the root of problem was - a for-profit system that was putting their bottom line ahead of patient care!  But I bit my lip since we had an uneasy alliance with the large for-profit dialysis companies DaVita and Fresenius, they were also backing the bill at that point (they were against it in 2007).
So for more than twenty years I've felt uneasy that only band-aids seem to be being put on this kidney dialysis field of medicine - not real fundamental change that I can see!  What kind of fundamental change would I like to see?  I mentioned it in these two blogs: Blog #5 and Blog #6.  Bottom line, break them up - and care cooperatives are looking very, very promising!
I've spent years screaming about the problems in kidney dialysis (plenty of ammo).  Maybe it is time to do some screaming about the way it could be!
More info:
Fact Sheet
Scandals-articles, etc...
Details

Written by:

Super User
Dialysis Treatment – A Punch in the Kidneys

April 2, 2008

Here's a fact that may surprise you: kidney failure is the one disease that you can get coverage for – from the Federal Government - no matter what.

For this reason, after 30 months of treatment by a private insurer, dialysis facilities bill Medicare regardless of whether the patient is over 65 or financially stable. For those with kidney failure (End Stage Renal Disease) due to diabetes or other causes, having a machine take over the complicated (and therefore expensive) task of cleaning their blood several times a week allows them to live.
MSP extension: For several years, various groups have been pushing for an extension of the Medicare Secondary Payment time frame from 30 months to 42 months, claiming in part it is a denial of patients rights to force them onto Medicare if they want to retain private insurance. Kidney Care Partners (KCP) - a coalition of drug manufacturers, dialysis providers, health care professionals and patient advocates formed in 2003 - are pushing for the Medicare Secondary Payment extension as well as other "quality of care improvements for renal disease." (The House of Representatives approved the MSP extension in August 2007 when it voted to pass the Children's Health and Medicare Protection Act, which Bush later vetoed. See our piece on S-CHIP.)

Sounds good, yes?

Not so fast.